[object Object]
via 13 Useful WordPress SQL Queries You Wish You Knew Earlier.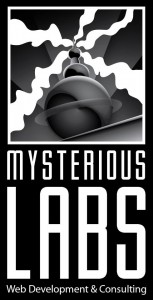 Finally, after years of working on other sites, mysteriouslabs.com is not just an internet parking space. Tim Snyder of Ton-up Creative has been keeping us both pretty busy. He did, however, find time to create this fantastic logo/business card ->
We're hard at work on our first smartphone game, Astro 8 Bit, so stay tuned for updates on that.